Namibia Holidays 2014
Highlights, suggested holiday ideas and recommended safaris.
From the sea of sand dunes at Sossusvlei, to the harsh landscape of Damaraland in the north, and the wildlife rich plains of the Etosha National Park, Namibia is a truly stunning country full of contrasts. The vastness of the country will both impress and delight first time visitors, and returning visitors will always find somewhere new to explore and enjoy.
These are a few of our favourite Namibian holidays for 2014, but if you would like to see what we might be able to do to meet your exact requirements, then please do give us a call or enquire now via the web site.
Special Offer - Deposits from only £100 per person
Travel Butlers is celebrating 10 years in the safari business, and to mark the occasion we're offering you the chance to pay a deposit of only £100 per person to secure your holiday to South Africa.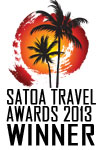 The offer is valid for all new bookings confirmed before 31 March 2014, and the balance will be due 8 weeks before travel, as per our usual terms and conditions.
This £100 deposit per person (or equivalent amount in USD, EUR or ZAR) will secure your safari lodge, hotel bookings, and transfers or hire car in South Africa. If you would like to book your flights with us, we'll need to take payment in full for these at the time of booking.
We can accept payment by bank transfer, Mastercard, or Visa, or UK debit card, with no surcharges for card payments.
Suggested Itineraries
Sossusvlei and the Namib Desert, Damaraland, Kunene and Etosha National Park.
9 day itinerary.
Guide price valid for travel in April 2014
Sossusvlei and the Namib Desert, Damaraland, Etosha National Park, Johannesburg, Okavango Delta and Victoria Falls - Zambia.
14 day itinerary.
Guide price valid for travel in April 2014
*Prices are per person and are based on today's exchange rates. Exchange rates are subject to change and are updated daily.
Prices exclude international flights - ask us if you would like to include these.
.