Satao Camp
Tsavo National Park
Tsavo National Park occupies nearly 22,000 km2 , and is one of Kenya's oldest and largest National Parks. Its beautiful landscape and proximity to the coast make it a popular safari destination.
Satao Camp is located in Tsavo East, which covers about half this area. There is a wide variety of animals to be seen in Tsavo East, including lion, leopard, cheetah, zebras, giraffes, serval cats, antelopes, lesser kudu, oryx, klipspringer, impala, stripped hyena, gazelles, buffalos and elephants. Some 500 bird species have been recorded in the area, including ostrich and some migratory kestrels, while buzzards stop at Tsavo East during their long flight south.
The unequalled knowledge the guides have of Tsavo East National Park gives guests the best chance to see many of the various species of animals that inhabit this fantastic Park. The safari vehicles are equipped with everything you need to have a perfect game drive including roof hatches that give you the best position to photograph the awesome scenery, as well as cold boxes for stocking a welcome cold drink during the heat of the day.
Satao Camp has 20 tents in total, thoughtfully positioned to ensure a full view of the camps "own" watering hole. The 20 tents are made up of 16 family tents and 4 suites, each one with its own verandah. The tents are attractively furnished with locally made beds and unique African designs.
Each spacious tent has a private bathroom with running water. The shower however is in the true African style, whereby the camp staff bring hot water in the evening.
Show Rates in
Our standard rates for a Standard Tent - Full Board Basis
Dates
Price
Basis
Rate Name
Nights
1 November 2016 to 15 December 2016
GBP £ 276 US$ 340 ZAR 4,630 EUR 323
pps
Standard
1+ nights
Prices are on a per person sharing basis (pps).
Special offers for longer stays or when booked as part of a longer itinerary may apply - details on request.
---
Full Board Basis: All meals are included. Game drives are taken with your private driver-guide.
Game Package Basis: All meals; bottled water in the rooms; soft drinks, beer and house wine; local airstrip transfers; 2 extended shared game drives per day; and bush sundowners are included.
Safari Package Basis: All meals; shared game drives in 4x4 safari vehicle; return transfers from Mombasa in shared shuttle bus; and Park fees are included.
Children of any age are welcome. Rates available on request.
Popular Alternatives to Satao Camp
These are the top properties booked by people who considered staying at Satao Camp, but for one reason or another booked a different property. It may have been that Satao Camp was not available on the nights they wanted to stay, or they decided that somewhere else was better suited to their budget or itinerary.
If you're not sure which place might be best for your own trip then either give us a call or get in touch via the website, and we'd be delighted to run through the options with you.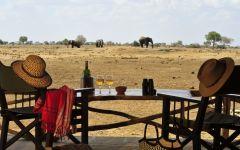 Location