Fancourt Hotel and Country Club
The Garden Route
Situated in the heart of the Garden Route at George, a combination of Olde Worlde charm and contemporary luxuries is what makes the Fancourt Hotel so distinctive.
Fancourt Hotel and Country Club Estate has 4 golf courses in total to offer the golfing visitor. All the courses are renowned for their amazing year round condition and the attention to detail that is shown. Guests can choose between a room in the beautifully restored Manor House or one of the stately Garden Suites. Whatever your choice, you can be sure that your stay will be most memorable.
The Presidents Cup 2004 was held at the Links Course at the Fancourt Hotel & Country Club Estate, which is consistently ranked in the Top 10 of South Africa's Golf Courses.
Set to test the best golfer in every way, The Links has some extraordinary holes, like the par-3 second, with its bunker in the heart of the enormous green.
For the non-golfers, there is a Health and Beauty Spa offering a range of treatments.
At the Manor House, you will find a restful haven in a building with a history dating back to the beginning of the 19th century. Now a National Monument, the Manor House with its 34 bedrooms is situated in a wooded parkland.
Fancourt's Garden Suites and Studios offer guests the chance to rest in the most peaceful setting of all - the magnificent gardens. All are just a few steps away from the Fancourt's renowned tree and flower-lined garden avenues; and some offer stunning views of the golf course.
Show Rates in
Our standard rates for a 1 Bedroom Suite
Dates
Price
Basis
Rate Name
Nights

1 October 2015

to

31 March 2016

GBP

£

135

US$ 205

ZAR 2,665

EUR 182

pps
Standard Rate
1+ nights

1 April 2016

to

30 September 2016

GBP

£

104

US$ 159

ZAR 2,060

EUR 141

pps
Standard Rate
1+ nights

1 October 2016

to

31 December 2016

GBP

£

146

US$ 222

ZAR 2,880

EUR 197

pps
Standard Rate
1+ nights
Prices are on a per person sharing basis (pps).
Special offers for longer stays or when booked as part of a longer itinerary may apply - details on request.
---
Breakfast is included.
Children of any age are welcome. Rates available on request.
General Information For Guests
Fancourt Hotel and Country Club Estate will be delighted to arrange transfers to and from George Airport. Rates are available on request.
There is no doubt that Fancourt is South Africa's premier golf resort, featuring 3 highly rated Championship golf courses as well as the Western Cape's premier 18-hole public course. The Golf Academy at Fancourt is a superb facility and has full-time teaching professionals to offer expert advice and tuition. Positioned between The Links and Bramble Hill courses and easily accessible to Fancourt residents and guests, the Academy is the perfect place to improve your golf.
Fancourt has long been associated with excellence in beauty treatments and with an unparalleled range of both traditional treatments and natural therapies, you will enjoy a holistic experience. Lluxury facials, massages, aromatherapy, stress relieving and detoxifying treatments. The other facilities include a tepidarium, relaxation room with floatation pool and dual treatment rooms.
Fancourt has 5 restaurants offering a variety of excellent dining experiences in truly delightful settings.
Supervised games and crafts for children will keep young ones busy while the parents enjoy their game of golf or a quiet time in the Spa.
The Fancourt Leisure Trails cater for walkers, runners and cyclists over distances of 2.3, 5 and 10 kilometres.
Directions
From the N2 (the main route between Cape Town and The Garden Route): Take the airport turn-off at George. Pass the airport on the left hand side. Go over a 4-way stop and Fancourt will be on the right hand side.
From Oudtshoorn or George: Follow the signs for Fancourt Hotel & Golf Estate passing Fancourt on the left and after 1km turn right at Palmiet Winkel.
Fancourt Hotel and Country Club Map
This map was supplied by Fancourt Hotel and Country Club.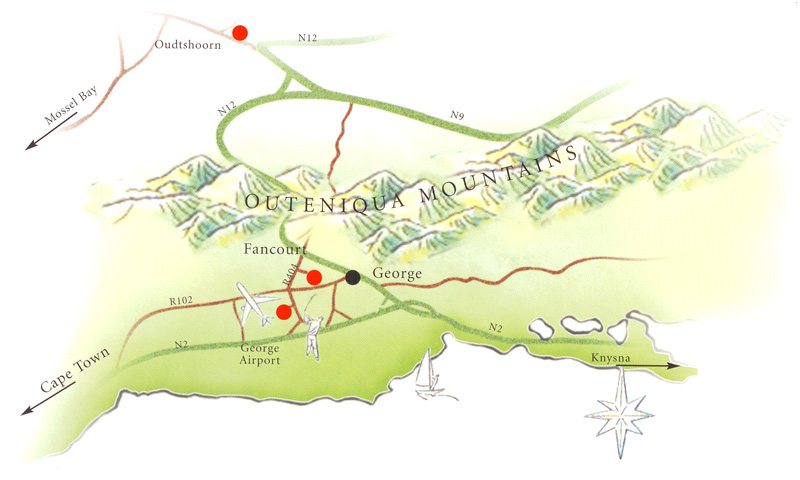 Popular Alternatives to Fancourt Hotel and Country Club
These are the top properties booked by people who considered staying at Fancourt Hotel and Country Club, but for one reason or another booked a different property. It may have been that Fancourt Hotel and Country Club was not available on the nights they wanted to stay, or they decided that somewhere else was better suited to their budget or itinerary.
If you're not sure which place might be best for your own trip then either give us a call or get in touch via the website, and we'd be delighted to run through the options with you.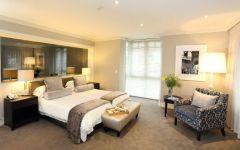 Location
Guest Photos