Sarili Lodge
Shamwari Game Reserve
Sarili Lodge provides the perfect combination between a colonial and bush experience, and is located in the award winning Shamwari Game Reserve, a 25,000 hectare, malaria-free, private game reserve situated in the Eastern Cape of South Africa.
Shamwari is about conserving a vanishing way of life, and has received numerous international awards, including the World's Leading Conservation Company and Game Reserve. Steeped in Settler history, and dating back to the time when a multitude of game roamed wild and free, the reserve is home to the Big 5 as well as wild dog, cheetah, hyena, giraffe, hippo, zebra and numerous antelope species.
Shamwari prides itself on the knowledge and professionalism of their rangers, and guests will receive personal attention from their assigned ranger for the duration of their stay.
Game viewing is carried out morning and evening on game drives, when you are driven in your open vehicle over the rolling hills and valleys in search of the wildlife.
There is also the option to go on a guided bush walk with your ranger after breakfast.
Sarili Lodge has 5 en-suite rooms in total - 2 luxury rooms with a balcony, 2 that open out onto a patio, and a suite. All the rooms have air-conditioning and a private minibar, as well as tea and coffee making facilities.
There is a main viewing deck that overlooks the Bushmans River, and there is also a heated swimming pool with a shallow area for children. The main guest lounge area has a fire place and satellite television.
Add To Wishlist
Enquire Now
Show Rates in
Our standard rates for a Luxury Courtyard
Dates
Price
Basis
Rate Name
Nights
1 May 2017 to 30 September 2017
GBP £ 323 US$ 413 ZAR 5,330 EUR 378
pps
Standard Rate
1+ nights
1 October 2017 to 14 December 2017
GBP £ 404 US$ 517 ZAR 6,660 EUR 472
pps
Standard Rate
1+ nights
15 December 2017 to 31 December 2017
GBP £ 447 US$ 573 ZAR 7,380 EUR 523
pps
Standard Rate
1+ nights
1 January 2018 to 28 February 2018
GBP £ 514 US$ 658 ZAR 8,485 EUR 602
pps
Standard Rate
1+ nights
1 March 2018 to 30 April 2018
GBP £ 0 US$ 0 ZAR 0 EUR 0
pps
Standard Rate
1+ nights
Prices are on a per person sharing basis (pps).
Special offers for longer stays or when booked as part of a longer itinerary may apply - details on request.
---
All meals; high tea; shared game drives; guided walks; tea/coffee; water; and game drive beverages are included. All other beverages are excluded and can be settled upon departure.
Children of any age are welcome. Rates available on request. Children under 4 years of age are not allowed on game drives. Child minding facilities are available at an additional cost. Persons under the age of 16 years are not permitted on any walking safaris.::
Guest Rating: 5.0 / 5.0 based on 3 ratings
Excellent stay - good food, good service, very knowledgeable guide and lovely rooms and location. Highly recommended.
S TALTY
All facilities were excellent and the quality of the cuisine outstanding.
M DAVIES
General Information For Guests
All rooms have air conditioning, en-suite bathrooms with separate shower, underfloor heating, international dial telephone, private minibar, tea/coffee making facilities, hairdryer, electronic safe and fitted international adaptors.
The main area has a heated swimming pool with shallow area for children, deck overlooking the Bushmans river, lounge with fire place and satellite television, in and outdoor dining facilities and wi-fi connection.
Amex, Master, Visa and Diners are accepted.
There is Wi-Fi available.
Gratuities are not compulsory at Shamwari, however should you wish to leave a gratuity, these can be placed in the courtesy envelopes which are supplied in the rooms.
Popular Alternatives to Sarili Lodge
These are the top properties booked by people who considered staying at Sarili Lodge, but for one reason or another booked a different property. It may have been that Sarili Lodge was not available on the nights they wanted to stay, or they decided that somewhere else was better suited to their budget or itinerary.
If you're not sure which place might be best for your own trip then either give us a call or get in touch via the website, and we'd be delighted to run through the options with you.
Add To Wishlist
Enquire Now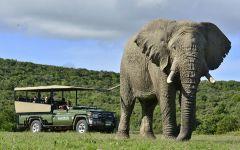 Location