Travel Butlers Ltd
Astra House
The Common, Cranleigh
Surrey GU6 8RZ, United Kingdom
tel: +44 (0)1483 266725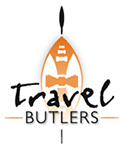 ---

Example holiday
Budget Island-Hopping in the Seychelles
We hope that this example holiday will give you give some inspiration to help you begin to plan your own dream holiday to Africa.
The next couple of pages show a summary of the itinerary, followed by a detailed page on each destination.
Important travel information for visitors to Seychelles is included at the back of this document.
All the holidays we offer to our clients are tailor-made so we can adjust this trip to fit in with your travel dates, interests, preferred accommodation...and of course your budget.
All our travel consultants have extensive knowledge of travel throughout Southern and East Africa, and our strong relationships with suppliers mean that our rates to you will always be competitive.
Let us take the hard work out of planning your trip: you can get in touch either by giving us a call on +44 (0) 1483 266725, completing the Enquiry Form on our website or emailing us at info@travelbutlers.com.
We look forward to hearing from you!
The Travel Butlers Team
Travel Butlers Ltd
Astra House
The Common, Cranleigh
Surrey GU6 8RZ, United Kingdom
tel: +44 (0)1483 266725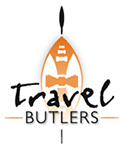 ---
Budget Island-Hopping in the Seychelles
Example Itinerary
Example Cost
Holiday Title: Budget Island-Hopping in the Seychelles
Holiday Destination: Holiday to Seychelles for 10 nights
Passengers: 2 Adults
Example Cost for 2 Adults: * per person sharing.
*Excludes international flights from your home country - please ask us if you would like us to include these for you.

ABTOT provides protection for your booking as set out in Section 6 of our booking conditions.
About Us
African Specialists
Friendly Expert Service
Tailor-made itineraries
Price Promise
No Credit Card Fees
ATOL Protected
UK Based
Travel Butlers Ltd
Astra House
The Common, Cranleigh
Surrey GU6 8RZ, United Kingdom
tel: +44 (0)1483 266725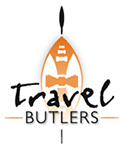 ---
Summary Of The Itinerary
Holiday Title: Budget Island-Hopping in the Seychelles
Passengers: 2 Adults
Day 1
Arrive into Praslin Airport. Once you have collected your luggage you will be met and transferred to your hotel.
The Indian Ocean Lodge lies on Praslin's south coast, hidden behind takamaka trees and tropical palms along the island's longest beach, Grand Anse. The crystal-clear waters surrounding Praslin are excellent for scuba diving and there are some great spots for snorkelling. Heading away from the beach, why not join a guided walk through the ancient Vallee de Mai forest - home to the very rare Black Parrot and the coco de mer - the world's heaviest nut.
---
Day 4
After breakfast you will be collected and transferred to the passenger jetty. The high speed ferry whisks you across to La Digue in just 15 minutes.
Boarding starts 10 minutes before the actual departure time.
When you arrive at La Passe Jetty on La Digue, make your way to Le Surmer, a self-catering property with just 8 chalets situated along Anse Reunion Beach. It is about a 15 minute walk to get here from the jetty. If you can bring yourself to abandon the beach for a while, La Digue's lush forests are full of natural surprises. Rambling through the jungle you'll come across frangipani, orchids, tangled vines of vanilla, bright hibiscus, Indian almonds and overgrown takamaka trees. The locals are friendly, the main mode of transport is bicycle and the Creole cuisine is a mouth-watering fusion of Indian, African and European flavours.
---
Day 7
Walk back to the ferry in time to board the boat to Mahe. The ferry may stop en-route at Praslin but the journey time will be about 90 minutes in total.
Arrive at the Inter Island Quay Jetty in Mahe where you will be met and transferred to your hotel.
Located along the popular Beau Vallon Beach, the Coral Strand is among one of the original hotels in the Seychelles and offers affordable beachfront accommodation across 165 rooms. Beau Vallon is the island's main aquatic water sports centre and offers both motorised and non-motorised watersports, including parasailing, skiing, jet skiing, windsurfing and banana rides.
---
Day 11
You will need to check out of your room this morning but you can remain at the hotel and use all the facilities until you are collected for your transfer to the airport, where you will check in for your flight home. Alternatively, if you have an evening flight, the hotel may be able to arrange a late check out for you (additional cost and payable directly to the hotel) subject to the availability of the room.
Travel Butlers Ltd
Astra House
The Common, Cranleigh
Surrey GU6 8RZ, United Kingdom
tel: +44 (0)1483 266725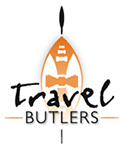 ---
Indian Ocean Lodge Hotel
Praslin: 3 Nights
The Indian Ocean Lodge is an affordable small hotel establishment situated right along the beach of Grand Anse, just on the outskirts of the tiny village by the same name. Grand Anse is one of the longest beaches on the island, with shallow flats that extend far out to the reef and water barely lapping along the shore.
From the cuisine, to the interior decor, to the warm faces greeting you at each turn, everything about the hotel is there to provide you with a truly authentic Seychelles experience. It is a relaxing haven to unwind, a convenient location from which to explore the sights, sounds and tastes of these magical islands, and then enjoy a peaceful night's sleep at the end of the day.
The Blue Marlin Restaurant offers breakfast, lunch, dinner and anything in between. The pool side bar provides ice-cold beverages througout the day, and theres no better place to sip a cocktail as the sun sets over the Indian Ocean.
The 32 guest rooms are nestled along the beach across 8 two-storey structures of traditional Creole architecture, and surrounded by tropical gardens. The interiors have been designed to uniquely identify with Praslin in every way, with pastel and earth tones, along with fixtures and made out of traditional materials like palm leaves and coconut husks and shells. The white-washed furniture, built by local carpenters, lends a soothing, rustic finish to the room.
All of the rooms have been designed to easily convert into ideal accommodation for families - the seating area can be converted into a sleeping area for children. Some rooms are interconnecting, offering additional space for families with older children.

Example Details For Indian Ocean Lodge Hotel
Nights:
3 Nights
Adults:
2
Children:
0
Room:
Standard Room (CEBB01 Early Booking Offer Applied)
Includes:
Half Board Package: Breakfast and dinner are included.
Location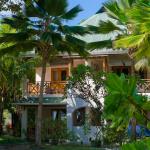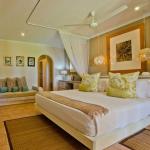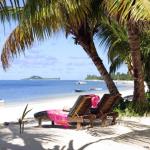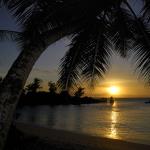 Travel Butlers Ltd
Astra House
The Common, Cranleigh
Surrey GU6 8RZ, United Kingdom
tel: +44 (0)1483 266725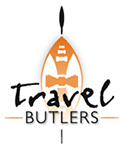 ---
Le Surmer
La Digue: 3 Nights
The beauty of the Seychelles is that each and every island is so diverse. If you're looking for a laid-back break from reality, you cannot do better than La Digue - the 4th largest island in Seychelles but one of the most unspoilt. It has a unique charm, stunning scenery, and is island lifestyle at its best.
Anse Source d'Argent is amongst the most photographed beaches in the world. Here, you'll find pale pink granite boulders studded across silken powdery sands, with a clear ocean ahead of you and the untamed jungle behind. Anse Patates, the island's northern most point, is superb for snorkelling.
The locals are friendly, the main mode of transport is bicycle or ox cart but the island is small enough to get around on foot. The Creole cuisine is a mouth-watering fusion of Indian, African and European flavours.
It only takes 15 minutes to cross to La Digue from Praslin, but it will feel as though you've entered an entirely different world.
Just a 15 minute walk from the La Passe Jetty, Le Surmer Chalets ovelooks the beach at Anse Reunion. Accommodation consists of one and 2 bedroomed self-catering chalets. Each of the 8 chalets has a living room with an open plan kitchen, an en-suite bathroom and a terrace/private veranda.
Small shops, a bigger supermarket and a few restaurants are close-by and can be reached by foot. The property itself also has a restaurant, which serves Creole cuisine.
The other beaches on the island can be reached by bike (bike hire is available from Recepton at an additional cost) in just a few minutes.
Example Details For Le Surmer
Nights:
3 Nights
Adults:
2
Children:
0
Room:
1 x One Bedroom Chalet
Includes:
Room only basis - no meals are included. Breakfast is available at an additional cost.
Location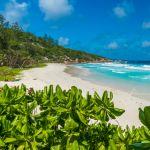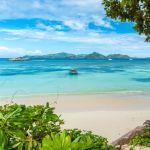 Travel Butlers Ltd
Astra House
The Common, Cranleigh
Surrey GU6 8RZ, United Kingdom
tel: +44 (0)1483 266725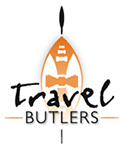 ---
Coral Strand
Mahe: 4 Nights
Undoubtedly, Seychelles is rated as one of the most sought-after tropical destinations. This Indian Ocean archipelago is made up of 115 individual islands, of which Mahé is the largest.
Mahé offers a myriad of stunning beaches, lush tropical forests and complete tranquility, plus a plethora of activities to choose from if you want to be more active. Whether you are looking for a romantic getaway or a family holiday, there is something for everyone here.
The island has an exceptional mix of African, European and even Asian influences. Local art, music and architecture are different from what you will find anywhere else in the world. The Creole cuisine is an explosion of different flavours just waiting to be tasted and enjoyed - the local food is one of the highlights of a stay here.
With year-round warm and balmy weather, Mahé is the perfect destination no matter when you plan to travel. The water of the Indian Ocean is perfect for swimming and for almost any water activity imaginable.
Located along the popular Beau Vallon Beach, the affordable Coral Strand Smart Choice Hotel showcases a new modern design with a high level of service and attention to detail. Ocean views and lush tropical greenery create a harmonious balance of peace and tranquility.
The hotel's main restaurant is open for breakfast and dinner, and offers themed buffets with multiple food choices every evening. There are a variety of other dining options too for lunch and dinner, including a sushi bar, an Indian gourmet restaurant, and light snacks around the pool.
Water sport activities are located right on the beach, and both motorised and non-motorised water sport activities are available.
The hotel offers 165 rooms, and mostly all have ocean views.
Example Details For Coral Strand
Nights:
4 Nights
Adults:
2
Children:
0
Room:
Coral Standard Room (CEBB25 Early Bird Offer Applied)
Includes:
Breakfast is included.
Location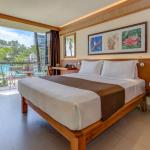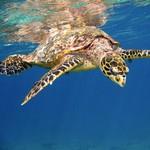 Travel Butlers Ltd
Astra House
The Common, Cranleigh
Surrey GU6 8RZ, United Kingdom
tel: +44 (0)1483 266725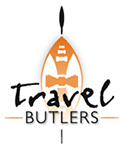 ---
Important Travel Information For Seychelles
Passport, Visa and Entry Requirements
Normally, irrespective of the nationality of the visitor and his or her family members (with some exceptions* - see below), there are NO VISA requirements to enter Seychelles. However, the following documents must be shown in order to obtain immigration clearance at the Seychelles International Airport:
A passport valid on the date of entry to and exit from Seychelles
Return or onward ticket
Proof of accommodation including contact details
Sufficient funds for the duration of the stay
Presentation of all of the above documents will grant you a Visitor's Permit that will be issued upon arrival by the Seychelles Department of Immigration. The Visitor's Permit is initially valid for the period of visit of up to one month.
Your passport should be valid for a minimum period of 6 months from the date of entry into Seychelles and have sufficient blank pages for the Seychelles entry/exit stamps (at least 2).
* If you are a passport holder from certain African countries, please contact your local Seychelles High Commission or Embassy for up-to-date visa requirements, as nationals from certain countries are required to obtain temporary visas before travelling to Seychelles.
Please note that if you are applying to the Embassy for your visa, some visas can take a long time to be processed so please do take this into consideration, as it is your responsibility to ensure you have the correct visa in place before you travel.
IMPORTANT: The Seychelles Government have implemented a new Environmental Sustainability Levy. This Environmental Sustainability Levy has been introduced to generate funds which will be invested back into preserving and enhancing the natural environment of Seychelles by investing in green, renewable energy, and environmental conservation. Under the newly introduced levy, all travellers arriving in Seychelles from the 01 August 2023 will be required to contribute based on a per person/per night basis. The payment is made in-destination, in Seychelles Rupees, and payable directly to the respective hotel upon check in or check out. The levy will be charged based on the size of the hotel as follows (children under 12, airline company staff, and Seychellois citizens are exempt from the levy):
Small Hotels (1 to24 rooms) - SCR 25 per person per night
Medium-sized hotels (25 to 50 rooms) - SCR 75 per person per night
Large hotels (51+ rooms, island resorts*, yachts) - SCR 100 per person per night
* Island resorts relate to establishments based on any island other than Mahe, Praslin, La Digue or Cerf Island.
PLEASE NOTE: Countries can change their entry requirements at any time. Travel Butlers try to ensure that the information displayed here is correct, but the onus remains with the traveller to verify the information with the relevant High Commission or Embassy and ensure that they can comply with the applicable entry requirements.
Travel Butlers Ltd
Astra House
The Common, Cranleigh
Surrey GU6 8RZ, United Kingdom
tel: +44 (0)1483 266725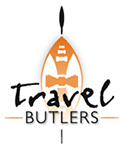 ---
Important Travel Information For Seychelles
Continued
Medical
You are advised to contact your doctor or clinic around 4-8 weeks before your trip to check whether you need any vaccinations and to get their professional medical advice regarding travel to Seychelles.
To help avoid heatstroke, drink plenty of bottled water/fluids and keep out of the midday sun.
Tap water meets W.H.O. (World Health Organization) specifications and is safe to drink nationwide. Because tap water is chlorinated, however, visitors are advised to drink bottled water but there is no imperative to avoid soft drinks, alcoholic drinks and ice. If you are in any way concerned about drinking water, bottled water is widely available in shops, restaurants and hotel bars.
There is NO risk of contracting malaria in Seychelles as the anopheles mosquito does not exist in Seychelles. However, some cases of dengue fever transmitted by mosquitoes have been reported. Try to avoid mosquito bites wherever possible - wear loose long-sleeved clothing and trousers and use a repellent on clothing and exposed skin.
There is no risk of yellow fever in Seychelles, so a yellow fever vaccination is NOT required for travellers whose sole destination is Seychelles. However, in accordance with International Health Regulations, Seychelles requires all travellers over one year of age arriving from a yellow fever risk country, or having been in transit longer than 12 hours at the airport of such a country, to have a yellow fever certificate. These countries include Kenya and Uganda but it is up to the traveller to check the full list here https://nathnacyfzone.org.uk/factsheet/60/yellow-fever-maps
Languages And Culture
There are 3 official languages in Seychelles: Creole (a lilting, French-based patois), English and French. Many Seychellois also speak fluent Italian or German.
We would ask that all travellers are respectful of the local culture as follows:
Topless sunbathing is uncommon and not tolerated on some beaches. Nudism is not acceptable.
Homosexuality is not illegal in Seychelles. However, local attitudes do and can vary, so whilst everyone is of course entitled to their own sexual preferences and gender identity, we would advise all clients of the LGBT+ community to refrain from public displays of affection (including kissing and holding hands) and to be as discrete as possible about their relationship.
Please resist the urge to collect seashells along the beaches as many are used as habitation by hermit crabs. Collecting shells is prohibited in nature reserves, marine parks and reserves in Seychelles. The unique and unusual tropical flora is beautiful and for it to remain so, it is important that you admire it, but leave it for others to enjoy.
Be considerate towards the fauna and sensitive to its sometimes fragile nature. Please walk carefully on the reefs and do not feed sea birds, mammals, turtles or tortoises or disturb them or their nesting grounds.
Travel Butlers Ltd
Astra House
The Common, Cranleigh
Surrey GU6 8RZ, United Kingdom
tel: +44 (0)1483 266725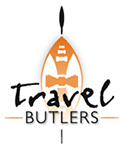 ---
Book With Confidence

Travel Butlers have 20 years experience of booking travel to Africa and the Indian Ocean for clients from all around the world. In this time we have supported clients through disruptions caused by numerous unexpected events including natural disasters, localised disease outbreaks and airline cancellations. Nobody can be certain exactly what will happen in the future, however Travel Butlers can offer you peace of mind and flexibility to ensure that you feel confident booking a holiday with us.
Flexibility and peace of mind before you travel
Our team are specialists in travel to Africa and the Indian Ocean, and we are constantly monitoring the changing situation regarding travel to the region. If your trip cannot go ahead due to specific travel restrictions related to Covid-19 then we will get in touch to offer you the choice of the following:
Postponing to a later date
Switching to another destination
Receiving a full refund of all monies paid to Travel Butlers for the trip, providing the balance due has been paid in full
The specific Covid-19 travel restrictions are defined as follows:
The UK FCDO advises against all but essential travel or your booked country is placed on the red list
The government in your country of residence (non-UK residents) restricts all but essential travel
The destination you are travelling to has entry restrictions in place that prohibit you travelling, such as closed borders or extended quarantine requirements
International flights are cancelled without alternative routing available for you to use to reach the destinations in the itinerary
We would not normally be able to confirm that your trip cannot proceed due to travel restrictions until a couple of weeks before the start of your trip, however should you want to look at postponing or altering your trip before then we would aim to be as flexible as possible.
If we confirm that your trip is unable to proceed due to Covid-19 travel restrictions, then we will not charge you an amendment fee if you choose to postpone your trip or move it to another destination. We may need to adjust the cost of your trip to reflect the new dates, particularly if those coincide with a more expensive season of travel or higher grade of accommodation. Equally, if the cost of your postponed trip is less, we will reduce the cost accordingly.
You should still take out travel insurance that includes Covid-19 to cover you in the event that your trip can go ahead but you are unable to travel due to illness or a change in your personal circumstances. If there are no travel restrictions in place that mean your trip could not go ahead but you need to cancel due to illness or a change in your personal circumstances then our normal terms and conditions would apply. You should ensure that your travel insurance provides adequate cover for cancelling due to illness, including Covid-19, and you may be able to make a claim against your travel insurance depending on the cover offered by your policy.
Support whilst you are away
We offer 24/7 telephone assistance to all our clients whilst they are away, and also have partners in each country that are able to assist with any PCR tests or other issues that might arise during your trip.
If you fall ill whilst you are away, or if your trip is disrupted due to Covid-19 whilst you are travelling, then our experienced team will be on hand to assist you in whatever way you need. You would need to pay any additional costs incurred due to illness or travel disruption whilst you are away, however you may be able reclaim these expenses on your travel insurance depending on the cover offered by your policy. Travel Butlers will be able to assist by providing supporting documentation for your claim.
Financial protection for your Travel Butlers holiday
All of the holidays we sell are 100% financially protected through our ATOL and ABTOT bonding so your money is in safe hands when you book a Travel Butlers holiday. Furthermore, our business is well positioned to navigate through the challenges which the travel industry is currently facing.
Please read our Terms and Conditions for more information.
Finding suitable travel insurance that covers Covid-19
You can now get insurance that offers cover for disruption related to Covid-19, and these policies could include cover for:
cancellation if you or anyone covered by the policy gets a positive coronavirus test in the two weeks before you travel
medical costs if you get coronavirus while you are away
additional transport and/or accommodation expenses if you fall ill with coronavirus while you are away
Not all policies offer this kind of cover, not necessarily even all policies from the same provider, so you should ensure you check the policy details carefully before buying your insurance.
You can read more about choosing suitable travel insurance in the FCDO guide to travel insurance.