Travel Butlers Ltd
Astra House
The Common, Cranleigh
Surrey GU6 8RZ, United Kingdom
tel: +44 (0)1483 266725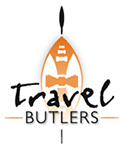 ---

Example holiday
Family Escape to Kenya
We hope that this example holiday will give you give some inspiration to help you begin to plan your own dream holiday to Africa.
The next couple of pages show a summary of the itinerary, followed by a detailed page on each destination.
Important travel information for visitors to Kenya is included at the back of this document.
All the holidays we offer to our clients are tailor-made so we can adjust this trip to fit in with your travel dates, interests, preferred accommodation...and of course your budget.
All our travel consultants have extensive knowledge of travel throughout Southern and East Africa, and our strong relationships with suppliers mean that our rates to you will always be competitive.
Let us take the hard work out of planning your trip: you can get in touch either by giving us a call on +44 (0) 1483 266725, completing the Enquiry Form on our website or emailing us at info@travelbutlers.com.
We look forward to hearing from you!
The Travel Butlers Team
Travel Butlers Ltd
Astra House
The Common, Cranleigh
Surrey GU6 8RZ, United Kingdom
tel: +44 (0)1483 266725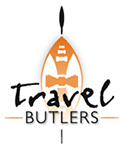 ---
Family Escape to Kenya
Example Itinerary
Example Cost
Holiday Title: Family Escape to Kenya
Holiday Destination: Holiday to Kenya for 7 nights
Passengers: 2 Adults and 2 Children
Example Cost for 2 Adults and 2 Children: * per person sharing.
*Excludes international flights from your home country - please ask us if you would like us to include these for you.

All monies paid by UK customers for the air package holiday shown are ATOL protected by the Civil Aviation Authority. Our ATOL number is 10245.
When you buy an ATOL protected flight or flight inclusive holiday from us you will receive an ATOL Certificate. This lists what is financially protected, where you can get information on what this means for you and who to contact if things go wrong.
About Us
African Specialists
Friendly Expert Service
Tailor-made itineraries
Price Promise
No Credit Card Fees
ATOL Protected
UK Based
Travel Butlers Ltd
Astra House
The Common, Cranleigh
Surrey GU6 8RZ, United Kingdom
tel: +44 (0)1483 266725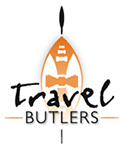 ---
Summary Of The Itinerary
Holiday Title: Family Escape to Kenya
Passengers: 2 Adults and 2 Children
Day 1
Arrive into Nairobi's Jomo Kenyatta Airport.
After you have had your passports stamped by the Immigrations Officer, proceed to the Baggage Hall to collect your luggage and then go through Customs and exit the building onto the street outside, where our representative will be waiting to meet you, holding a signboard displaying your name. He will introduce you to your driver-guide and you will then be driven to the Masai Mara National Reserve in your private 4x4 safari vehicle where your safari adventure will begin.
Located at the very centre of the famous 'Mara Triangle' of the world-renowned Big 5 Masai Mara National Reserve, the Mara Serena Safari Lodge is set high on a bush-cloaked hill with long views over the savannah and down to the winding coils of the hippo-filled Mara River. The central bar and dining areas enjoy spectacular views, as does the rock-surround swimming pool. Offering an abundance of plains game including zebra, giraffe and antelope, the Mara makes the ideal hunting ground for Kenya's famous big cats and hosts a large population of lions. The reserve also offers a good chance of spotting a leopard in the wild and other predators, including cheetah and spotted hyena.
---
Day 3
After an early breakfast you will be driven back to Nairobi and taken to Jomo Kenyatta Airport where you will check in for your domestic flight across to the coast.
Kenya Airways KQ608 (Economy Class): Fly from Jomo Kenyatta International Airport (NBO) departing at 15:00 to Moi International Airport (MBA), arriving at 16:00

You will be met and transferred to your beach resort.
Guests arriving at Serena Beach Resort & Spa find an oasis of tranquillity framed by whispering coconut palms, lush gardens and one of the most beautiful white-sand beaches on the Indian Ocean. Come and discover a whole new level of relaxation and comfort at this family-friendly tropical paradise just north of Mombasa.
---
Day 8
You will need to check out of your room this morning but you can remain at the hotel and use all the facilities until you are collected for your transfer back to the airport. Alternatively, if you have an evening flight, the hotel may be able to arrange a late check out for you (additional cost and payable directly to the hotel) subject to the availability of the room.
Travel Butlers Ltd
Astra House
The Common, Cranleigh
Surrey GU6 8RZ, United Kingdom
tel: +44 (0)1483 266725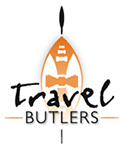 ---
Mara Serena Safari Lodge
Masai Mara: 2 Nights
Located at the very centre of the famous Mara Triangle of the world-renowned Masai Mara National Reserve, the Mara Serena Safari Lodge is the ultimate safari destination.
Set high on a bush-cloaked hill with long views over the savannah and down to the winding coils of the hippo-filled Mara River, it stands centre-stage to one of Africa's most dramatic wildlife arenas, with a ringside seat for the greatest wildlife show on earth, the legendary annual migration of the wildebeest.
Styled to echo the circular motif of a traditional Masai manyatta, the lodge blends international sophistication with raw African beauty, while featuring twin rows of individual rooms, each with its own view of the famous Mara River.
The central bar and dining areas enjoy spectacular views, as does the rock-surround swimming pool.
Activities include daily game drives in custom-built traditional safari vehicles, sundowners in the bush, breakfast by the hippo pools, balloon safaris and exotic Masai bush suppers.
The 74 luxury en-suite rooms are accommodated in twin wings which radiate out from the central building. Each tastefully-appointed modular room is set slightly in front of its neighbour, thus allowing uninterrupted views of the famous Mara River.
Uniquely-presented in swirling patterns of savannah-yellow and bush-tones, each room features Masai-inspired design-motifs, king-sized beds (or luxurious twins), lavish all-encompassing mosquito-curtaining, marble bathroom (with walk-in shower), writing/vanity unit, and seating area.
Example Details For Mara Serena Safari Lodge
Nights:
2 Nights
Adults:
2
Children:
2
Room:
1 x Family Standard Room
Includes:
Full Board Package: Mara Reserve fees and all meals are included. Game drives are taken with your private driver-guide.
Location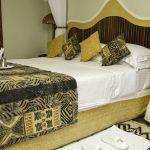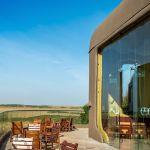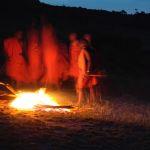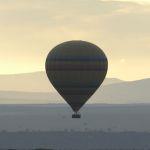 Travel Butlers Ltd
Astra House
The Common, Cranleigh
Surrey GU6 8RZ, United Kingdom
tel: +44 (0)1483 266725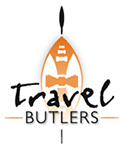 ---
Mara Serena Safari Lodge
Travel Butlers Ltd
Astra House
The Common, Cranleigh
Surrey GU6 8RZ, United Kingdom
tel: +44 (0)1483 266725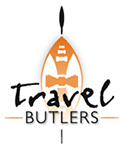 ---
Serena Beach Resort & Spa
The Kenyan Coast: 5 Nights
Situated on Shanzu Beach, only 30 kilometres north from Mombasa, fringed by beautiful white-sand beaches and shaded by coconut palms, the Serena Beach Resort & Spa is a tropical paradise.
Bright white against the blue sky, set in extensive lush green gardens, the architecture of the hotel replicates the winding lanes and colourful market places of a traditional 13th century Swahili town. At its heart lies the coral-built 'Fortress of Tranquillity' of the exquisite 'Maisha' Mind, Body and Spirit Spa.
Shanzu Beach is the most northerly portion of the coast between Mombasa and Mtwapa Creek. The hotel looks out over the waters of the Mombasa Marine National Park, a 200 square kilometre National Marine Reserve.
The Serena Beach Resort & Spa also offers a number of dining experiences, and a selection of bars, coffee shops and cafe areas, both inside and out. All are distinctive in their own way. Savour the authentic flavours and cooking styles of Mombasa, or enjoy inspired dishes from around the world. The acclaimed Serena Beach culinary team is exclusively focused on creating delicious cuisine. From sumptuous breakfasts to oceanfront seafood dinners accompanied by the finest selection of wines and perfectly mixed cocktails, all dishes feature the freshest high-quality ingredients.
To relax and rejuvenate, the Maisha Spa offers holistic therapies and has saunas, steam rooms and outdoor jacuzzis.
Featuring a well-developed coral barrier reef, the Park is visited by dolphin and turtles and plays host to 250 marine species to include crabs, butterfly fish, parrotfish, sea urchins, cowries, moray eel, lionfish, starfish and sergeant major fish. At low tide, the coral-sand beach also reveals extensive areas of channels that harbour a broad selection of marine creatures and shells.
The 164 luxury en-suite rooms and suites are set in single-storey buildings framed by Swahili architecture and landscaped parths and gardens to create the feel of a traditional Lamu village. All rooms and suites are tastefully appointed and features Maasai-inspired hand-painted wall frescos and private balconies or terraces with ocean views or facing the courtyard gardens.
The Family Village Rooms, 2 of which have sea views, have an entrance corridor leading to 2 separate en-suite bedrooms, making them ideal for families of all ages.
Example Details For Serena Beach Resort & Spa
Nights:
5 Nights
Adults:
2
Children:
2
Room:
1 x Deluxe Garden Wing Room
Includes:
Half Board basis.
Location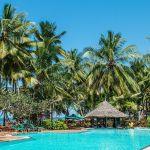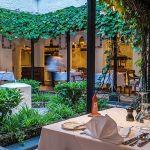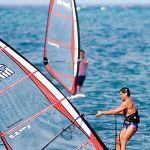 Travel Butlers Ltd
Astra House
The Common, Cranleigh
Surrey GU6 8RZ, United Kingdom
tel: +44 (0)1483 266725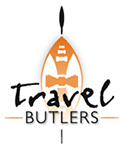 ---
Serena Beach Resort & Spa
Travel Butlers Ltd
Astra House
The Common, Cranleigh
Surrey GU6 8RZ, United Kingdom
tel: +44 (0)1483 266725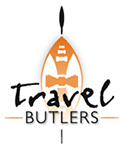 ---
Important Travel Information For Kenya
Passport, Visa and Entry Requirements
Additional requirements and restrictions may apply for travel due to the Covid-19 pandemic. Travel Butlers aim to highlight these requirements to affected clients, however the onus remains with the traveller to ensure they are aware of any requirements and restrictions that will apply to their own trip.
For up-to-date travel information from the UK government, please check:
UK Government Advice: www.gov.uk/foreign-travel-advice/kenya
It is expected that these rules will be lifted and that the entry requirements will revert to normal as soon as the government of Kenya deems it safe to do so.
All foreign citizens wishing to travel to Kenya will need an eVisa, except citizens from countries who are exempt. A full list of the exempt countries can be found here: evisa.go.ke/eligibility. You can no longer obtain a visa on arrival.
You can apply for your eVisa online via the eVisa portal https://evisa.go.ke. Please ensure that you allow sufficient time prior to your travel dates as approval for the eVisa can take up to 7-10 working days to process. Once the eVisa is issued, it is valid for 3 months. You must print a copy of your visa to present to the Immigration Officer at your point of entry. You may not be notified when the visa is issued so it is the traveller's responsibility to sign into their account at the eVisa portal to check - the visa will be available to download from your account once issued.
The following eVisa types are available (please note there are no visa fees for children under the age of 16) - all costs subject to change:
Single Entry - Allows you to enter into Kenya once - current cost USD 51.
Transit - Allows a short stop over (up to 3 days/72 hours) in Kenya - current cost USD 21. This is ideal if you want to leave the secure area of the airport, for example for an overnight stay inbetween flights, or for a period not exceeding 72 hours. No visa is required for a direct transit (not leaving the secure area of the airport, aka staying 'airside', within the airport terminal) between 2 flights.
Children under 16 years of age do not need an eVisa to travel to Kenya, as long as they are accompanied by one or both parents (but they do need to posess a valid passport). One parent when applying for their eVisa will need to add the children's details (name, date of birth, etc) to their application.
Please note: If you are travelling between Kenya and Tanzania via Tarime/Migori flights, the border entry/exit post is Isebania.
It is also possible to get an East Africa Tourist Visa which is valid for 90 days and allows holders to travel to and within Kenya, Uganda and Rwanda - current cost USD 101 per person (subject to change) - you can apply for this online too.
Your passport should also be valid for a minimum period of 6 months from the date of entry into Kenya. Make sure you have 2 blank pages in your passport on arrival.
IMPORTANT: Plastic bags are banned in Kenya
. Arriving visitors are requested to avoid bring plastic bags into the country and being in possession of a plastic bag is an offence and offenders could be penalised.
Visitors are advised to avoid packing any plastic bags in their suitcases or in carry-on hand luggage before flying to Kenya. Items purchased at the airport before boarding the aircraft should be removed from plastic bags.
Travellers coming into Kenya with plastic duty-free shop bags will also be required to leave them at the airport. Please check hand luggage before disembarking and any plastic bags (including the transparent ziplock plastic bags that some airlines require passengers to use for keeping liquids, cosmetics, toiletries etc) should be left in the plane. This does not apply to people in transit.
All single use plastics, such as plastic water bottles and straws, are banned in all National Parks, forests, beaches and conservation areas.
PLEASE NOTE: Countries can change their entry requirements at any time. Travel Butlers try to ensure that the information displayed here is correct, but the onus remains with the traveller to verify the information with the relevant High Commission or Embassy and ensure that they can comply with the applicable entry requirements.
Travel Butlers Ltd
Astra House
The Common, Cranleigh
Surrey GU6 8RZ, United Kingdom
tel: +44 (0)1483 266725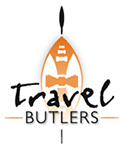 ---
Important Travel Information For Kenya
Continued
Medical
You are advised to contact your doctor or clinic around 4-8 weeks before your trip to check whether you need any vaccinations and to get their professional medical advice regarding travel to Kenya.
To help prevent diarrhoea, avoid tap water – drink only bottled water and use bottled water for tooth brushing, and avoid ice made with tap water – and only eat fruit or vegetables that are cooked or can be peeled.
To help avoid heatstroke, drink plenty of bottled water/fluids, and keep out of the midday sun.
There is a risk of malaria in all areas of Kenya, except Nairobi and the highlands - check with your doctor about suitable antimalarial tablets. Dengue fever can also be transmitted via mosquito bites. Try to avoid mosquito bites wherever possible - wear loose long-sleeved clothing and trousers, and use a repellent on clothing and exposed skin.
Kenya falls into the yellow fever region in Africa. There is only a low potential for exposure to yellow fever in Nairobi, Mombasa, Lamu, Malindi and Shimba Hills National Park, but in the rest of the country there is a higher risk. It is therefore advisable for all travellers aged 9 months and older to obtain a yellow fever vaccination no less than 10 days prior to travel, but depending on the rest of your travel plans and country of origin, it is not compulsory:
Travellers from the UK who are only travelling directly to and from Kenya are currently not required to produce a vaccination certificate upon their return to the UK but this can change with no notice so do please check with your doctor and take their advice
If you are arriving into Kenya from a country which has any risk of yellow fever transmission you will be required to provide a certificate of your vaccination upon entry into Kenya. Also, certain countries including South Africa and Tanzania will deny entry if you are arriving from Kenya without the vaccination. It is up to the traveller to check the full list of countries here to ensure that you comply with these guidelines: https://nathnacyfzone.org.uk/factsheet/60/yellow-fever-maps
If your doctor advises that it is not safe for you to have the vaccination then you should obtain a medical waiver and travel with this instead.
Languages And Culture
English is the common commercial language, therefore it is spoken in the major towns and at all lodges and hotels. There are 52 tribes in Kenya, each with their own tribal language. The national language in Kenya is Swahili.
We would ask that all travellers are respectful of the local culture as follows:
Showing anger is not acceptable – Kenyan people pride themselves on their emotional control and expect the same in others. Try to remain patient, polite and friendly, even if the situation is very frustrating. Pointing with your finger at someone is considered very rude and is deemed to be an obscene gesture.
The coastal areas are predominantly Muslim so it is important to dress conservatively out of respect for the Muslim culture. On the beaches and within the confines of hotels, normal swimwear is acceptable but nudity/topless sunbathing is not. Away from beach resorts (especially in Mombasa, during the holy month of Ramadan or if you visit religious areas), women should avoid walking around in public areas displaying their legs and upper arms/shoulders - 'short' shorts, mini skirts, vests and tank tops may be frowned upon and viewed as a sign of disrespect. Long, loose hair is also seen as very provocative, so to avoid unwanted attention ladies may wish to tie their hair back or wear a headscarf.
Homosexuality is illegal in Kenya. Whilst everyone is of course entitled to their own sexual preferences and gender identity, we would advise all clients of the LGBT+ community to refrain from public displays of affection (including kissing and holding hands) and to be as discrete as possible about their relationship.
You should always ask permission before taking anyone's photograph. Taking photographs of official buildings, including Embassies, can lead to detention. If in any doubt, don't photograph or film around them. Photography is also prohibited at airports.
Smoking in all public places (except in designated areas) is prohibited. Offenders can face a fine or imprisonment.
You must carry a form of ID with you at all times. A copy of your passport is normally acceptable, but recently some police officers have been insisting on the original document.
Travel Butlers Ltd
Astra House
The Common, Cranleigh
Surrey GU6 8RZ, United Kingdom
tel: +44 (0)1483 266725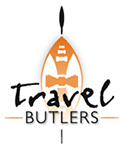 ---
Book With Confidence

Travel Butlers have nearly 20 years of experience booking travel to Africa and the Indian Ocean for our clients from all around the world. In this time we have supported clients through disruptions caused by numerous unexpected events including natural disasters, localised disease outbreaks and airline cancellations. Nobody can be certain exactly what will happen in the future with the current Covid-19 pandemic, however Travel Butlers can offer you peace of mind and flexibility to ensure that you feel confident booking a holiday with us.
Flexibility and peace of mind before you travel
Our team are specialists in travel to Africa and the Indian Ocean, and we are constantly monitoring the changing situation regarding travel to the region. If your trip cannot go ahead due to specific travel restrictions related to Covid-19 then we will get in touch to offer you the choice of the following:
Postponing to a later date
Switching to another destination
Receiving a full refund of all monies paid to Travel Butlers for the trip, providing the balance due has been paid in full
The specific Covid-19 travel restrictions are defined as follows:
The UK FCDO advises against all but essential travel or your booked country is placed on the red list
The government in your country of residence (non-UK residents) restricts all but essential travel
The destination you are travelling to has entry restrictions in place that prohibit you travelling, such as closed borders or extended quarantine requirements
International flights are cancelled without alternative routing available for you to use to reach the destinations in the itinerary
We would not normally be able to confirm that your trip cannot proceed due to travel restrictions until a couple of weeks before the start of your trip, however should you want to look at postponing or altering your trip before then we would aim to be as flexible as possible in accommodating this.
If we confirm that your trip is unable to proceed due to Covid-19 travel restrictions, then we will not charge you an amendment fee if you choose to postpone your trip or move it to another destination. We may need to adjust the cost of your trip to reflect the new dates, particularly if those coincide with a more expensive season of travel or higher grade of accommodation. Equally, if the cost of your postponed trip is less, we will reduce the cost accordingly.
You should still take out travel insurance that includes Covid-19 to cover you in the event that your trip can go ahead but you are unable to travel due to illness or a change in your personal circumstances. If there are no travel restrictions in place that mean your trip could not go ahead but you need to cancel due to illness or a change in your personal circumstances then our normal terms and conditions would apply. You should ensure that your travel insurance provides adequate cover for cancelling due to illness, including Covid-19, and you may be able to make a claim against your travel insurance depending on the cover offered by your policy.
Support whilst you are away
We offer 24/7 telephone assistance to all our clients whilst they are away, and also have partners in each country that are able to assist with any PCR tests or other issues that might arise during your trip.
If you fall ill whilst you are away, or if your trip is disrupted due to Covid-19 whilst you are travelling, then our experienced team will be on hand to assist you in whatever way you need. You would need to pay any additional costs incurred due to illness or travel disruption whilst you are away, however you may be able reclaim these expenses on your travel insurance depending on the cover offered by your policy. Travel Butlers will be able to assist by providing supporting documentation for your claim.
Financial protection for your Travel Butlers holiday
All of the holidays we sell are 100% financially protected through our ATOL and ABTOT bonding so your money is in safe hands when you book a Travel Butlers holiday. Furthermore, our business is well positioned to navigate through the challenges which the travel industry is currently facing.
Please read our Terms and Conditions for more information.
Finding suitable travel insurance that covers Covid-19
You can now get insurance that offers cover for disruption related to Covid-19, and these policies could include cover for:
cancellation if you or anyone covered by the policy gets a positive coronavirus test in the two weeks before you travel
medical costs if you get coronavirus while you are away
additional transport and/or accommodation expenses if you fall ill with coronavirus while you are away
Not all policies offer this kind of cover, not necessarily even all policies from the same provider, so you should ensure you check the policy details carefully before buying your insurance.
You can read more about choosing suitable travel insurance in the FCDO guide to travel insurance.