A 5 day/4 night unique and memorable safari adventure
The Selinda Canoe Trail is a 5 day/4 night adventure which takes a maximum of 8 guests only per set departure date on an exciting safari experience along the Selinda Spillway - the now flowing waterway linking Botswana's Okavango Delta and Linyanti and Kwando water systems. The trail runs from June to the beginning of September only.
The trail is reminiscent of safaris past, when days were spent on impromptu exploration and each night was spent camping along the banks of a river. Today, 18 foot Canadian canoes with 2 cushioned seats (with backs) are your transportation. With some gentle paddling by both people in the canoe, the canoes coast steadily through the waters, allowing you to explore the concession in utter peace. The majority of the paddling is with a gentle current, but potential participants should note that a degree of reasonable fitness is a requirement, in order that you get the most out of the trail.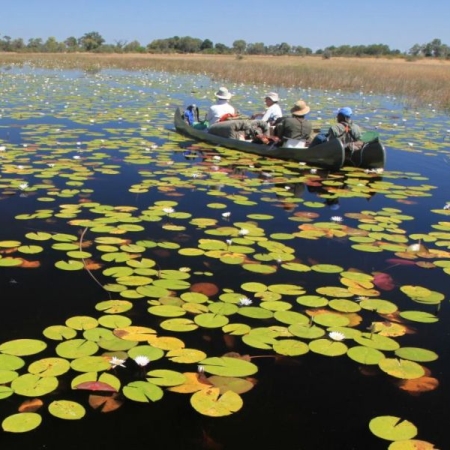 Your accommodation is in 3 metre x 3 metre 2 man dome tents, complete with 2 thick foam ground bedrolls with quality linen and towels. Bucket showers (with hot water for your evening shower) and 'long drop' lavatories in separate canvas tents are your 'bathroom' facilities.
You are accompanied along your journey by 4 team members - a cook, 2 camp hands and a guide - who will look after you at each step of the adventure. The team will accompany you in their own canoes, and carry the majority of the gear, and will set up each dome tent upon arrival at the new camp site.
Your adventure begins roughly 45 kilometers downstream from Selinda Camp, and from here, your journey over the next few days will take you along the Selinda Spillway eastward, following this meandering route through the 135,000 hectare Selinda Concession. The trail ends close to the convergence of the Linyanti and Kwando waterways.
Each day starts at the break of dawn. Whilst paddling, you may encounter wildlife along the Spillway's banks - the area is well known for elephant, buffalo, sable, roan, and wild dog, and it is possible to also encounter other predators as well. The Spillway is also a birding paradise but has relatively few hippos or crocodiles, making for a relaxing journey!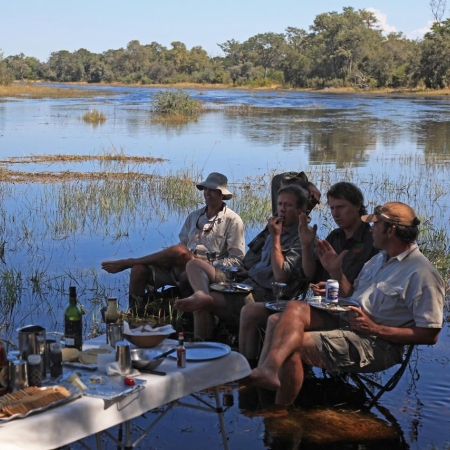 Often, your guides will suggest you stop and disembark your canoe to enjoy walks, looking for tracks and signs. Once the sun is high and strong, lunch is served on the shady river banks, followed by a siesta! When the sun begins to lose its intense heat, you continue along the waterway, arriving at your campsite before dark, where you can then relax by the fire while watching the chef craft dinner by open fire.
The cuisine is hearty, fresh and well prepared. Beer, wine, and a limited selection of soft drinks are supplied. Water is filtered directly from the Selinda Spillway, and is completely safe to drink. Special requests for bottled water, champagne and premium spirits can be supplied at an additional cost and should be requested at the time of booking your place on the trail with your Travel Butlers consultant. You are also free to bring your own drinks of any variety.
The Selinda Canoe Trail ends near Selinda Camp mid-morning on the fifth day, whereafter you can be transferred to the Selinda airstrip for your connecting charter aircraft.
Ideally, however, we would recommend that you consider extending your Selinda experience by staying at either Selinda Camp or Zarafa Camp - the perfect way to end a wonderful and unique safari experience.