We just received this from Camp Jabulani … it is such a sweet story I just wanted to share it with everyone!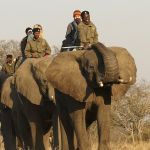 For those of you who are unfamiliar with Camp Jabulani … it is located in the 13,000 hectare Big 5 Kapama Private Game Reserve, one of Southern Africa's most exclusive private game reserves in the northern province, and is THE place to stay for an unforgettable elephant interaction.
The highlight of a stay here, aside from the luxurious accommodation, is an elephant back safari. Guests are seated on comfortable canvas-covered saddles behind an experienced elephant handler. From this vantage point, guests are able to view game from close proximity as the elephants move silently and in a single file through the bush.
Back to the story ….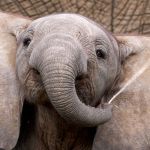 On a recent morning walk, 2 of the new 'babies' in the herd – Limpopo and Klaserie – joined their mum Tokwe for this amble into the bush. And like all youngsters, pretty soon they got tired of walking slowly with mum, and they started to make their own amusement, and running off and exploring everything.
Hotly persued by Klaserie, Limpopo charged up to a termite mound. Full of excitement, she started to sniff around the opening.
Suddenly, 2 quite frantic warthogs burst out of the opening, grunting loudly. Limpopo got such a shock she nearly fell over backwards, which in turn caused Klaserie to panic and run. I can only imagine how many photos were taken of this, and how funny the entire scene must have looked. Needless to say, for the remainder of the walk both Limpopo and Klaserie remained in line beside their mother, nor daring to wander away for even a second.
The full story can be found on Camp Jabulani's own blog.
Comments Off

on Elephant Antics !