Call our friendly experts:
0-800-981-420
The World Cup in South Africa 2010
11 June to 11 July 2010
South Africa is ready to welcome the world in June 2010 as it prepares to host a World Cup like no other.
From Cape Town in the southwest of the country to the world famous Kruger National Park in the far northeast, stadiums have been completed and refurbished, hotel rooms prepared, and above all the people are getting very excited.
Going to the World Cup
The World Cup is an ideal opportunity for many fans to combine sport with a trip to a truly world class travel destination.
Whilst it is certainly possible from many places (including Europe and South America) to visit the country for just a few days to take in one or two games, we expect that the majority of fans to take a little longer over their trip and explore more of this fascinating country and its neighbours.
If you would like to know anymore about travelling to South Africa for the World Cup then please ask us to help you go to the World Cup in South Africa.
To find where and when your team is playing, see our "Route To The Final" page.

The World Cup TV Planner can let you plan your entire world cup viewing and can automatically add fixtures to your Outlook (or similar) calendar to ensure you never miss a vital game!
This application translates the South African kick-off times for every game into different time zones, and for the UK, it even has details of which TV channel the matches will be on!
All the matches are searchable by team, group, match date, and more, and if you set your preferences-up the planner will default to your team and time zone next time you use it. You can even look-up when any two teams are scheduled to meet in the competition's knock-out stages!
On FaceBook? Add it to your FaceBook profile and share it with your friends: FaceBook Application
Not on FaceBook? Visit the World Cup TV Planner Web Site
Between games
As well as the football there will be plenty to do between games: from whale watching and wine tasting around Cape Town, to tracking lions in Kruger or scuba diving near Durban...this will be a World Cup to remember!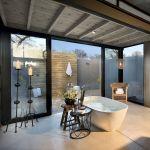 Probably top of most fans list of things to do will be going on a safari, and South Africa has five major safari regions boasting some of the best lodges and wildlife viewing on the continent.
The Greater Kruger Park is undoubtedly the jewel in the crown of South Africa's game reserves. At over 2 million hectares, Greater Kruger is one of the largest game reserves in Africa, and recent moves to take down fences with neighbouring reserves in Zimbabwe and Mozambique have further increased the size and diversity of the Park.
There are a large number of excellent safari lodges in the Park which offer an outstanding wildlife experience with close-up encounters with lions, leopards, and other members of the "Big 5" a particular specialty.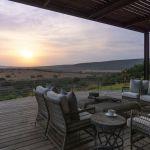 The game reserves of the malaria-free Waterberg and North-West Province areas provide an excellent opportunity for fans staying in Johannesburg, Pretoria or Rustenberg to enjoy either a day safari or overnight stay at a lodge without having to make the journey over to Kruger.
KwaZulu-Natal boasts some of South Africa's best and most famous reserves, and these are all with a few hours drive of Durban, and many can be reached by charter plane from Johannesburg, Durban or Nelspruit airport.
The Eastern Cape will be extremely popular with fans based in Cape Town and Port Elizabeth as it easily accessible, malaria-free, and has a number of reserves offering everything from family safaris

to some very exclusive lodges.
What Will The Weather Be Like?
It will surprise many visitors to learn that it is very likely that this World Cup will be generally cooler and less humid that the recent events in Germany and Korea/Japan....although most host cities will still have plenty of African sunshine!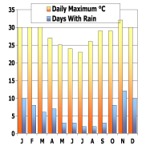 Johannesburg will be dry, with pleasant sunny days and fairly chilly nights. Rustenburg, Pretoria and Nelspruit are all at lower altitudes than Jo'burg, and will be warmer, but Bloemfontein on the edge of the Karoo Desert will be cold.
Polokwane and Nelspruit are likely to be the warmest host cities (see graph).
Durban will be pleasant and warm, with some humidity - the World Cup coincides with probably the best weather in Durban - however whilst Cape Town can have good weather in winter, in June the city is generally chilly, wet and windy, and the ocean far too cold for all but the hardiest swimmer.
Find out more about the climate on our South African weather and climate page.
Visa Requirements
Fans from the following countries do not require tourist visas for business and tourist purposes for visits of up to 90 days:
United Kingdom, Republic of Ireland, African Union, Argentina, Australia, Austria, Belgium, Botswana, Brazil, Canada, Chile, Czech Republic, Denmark, Ecuador, Finland, France, Germany, Italy, Japan, Netherlands, Norway, Paraguay, Portugal, Singapore, Spain, Sweden, Switzerland, Uruguay, Venezuela, United States of America.
Fans from other countries can check a longer list here or check with their nearest South African Embassy.
All visitors require a valid passport to enter South Africa. There are several different official sources, each of which give slightly different advice - ranging from no less than 30 days from the date of departure from South Africa (SA High Commission in London) to 6 months from date of departure (Irish Embassy in Pretoria). We therefore advise, if possible, to err on the side of caution and have at least 6 months left on your passport from the end of your holiday. If in doubt, please contact the SA consulate in your country.
The passport must have sufficient pages for entry / exit stamps - AT LEAST 2 BLANK PAGES FACING EACH OTHER. If your passport doesn't have this, then you may not be allowed to enter South Africa.
Crime
Although South Africa has had well-publicised crime problems over the last few years, it is worth remembering that most tourists are completely unaffected and that there is strong evidence that the situation is rapidly improving. Certainly during the World Cup period the authorities will be taking every action possible to ensure that crime levels are kept to a minimum.
For more tips on minimising your chances of being a victim of crime see here.