Tented Safari Lodges in South Africa
South African Safari Lodges Offering Tented Accommodation
For most people the idea of spending the night under canvas surrounded by the sounds of the African bush brings to mind the romance of a bygone age of adventure.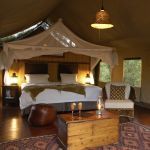 Fortunately, there are many tented safari lodges in South Africa's private game reserves where it is possible to recapture this magic.
Many of these lodges offer a level of luxury that would normally only be found in the very best 5* hotels, with many 'tents' boasting air-conditioning, luxury bathrooms, and even private plunge pools!
For guests travelling on a more modest budget, there are other lodges which offer less extravagant tented accommodation, however the large tents all still have proper double or twin beds and en-suite bathrooms…it's still a long way from most people's idea of roughing it!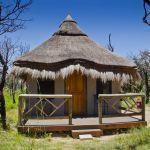 Safari Lodge
Guest Rating: 4.6 / 5.0 based on 20 ratings
A true African bush experience awaits you at Wildside Safari Camp, nestled against the cliffs of the Waterberg Mountain. The 20 luxury en-suite tents have an authentic safari feel.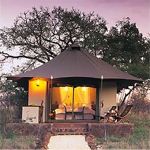 Safari Lodge
Guest Rating: 4.0 / 5.0 based on 1 ratings
Guests are accommodated in 8 luxurious safari tents. Each has a ball & claw bath, outdoor canvas shower and private veranda, and ensure a secluded retreat in unspoilt savanna bushveld teeming with game and birdlife.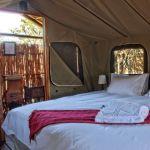 Safari Lodge
Guest Rating: 4.5 / 5.0 based on 2 ratings
Shindzela is a small wilderness camp, and hosts a maximum of 12 guests in canvas tents. Each tent lodge has a wooden entrance door, adjustable canvas flaps for windows, and mesh to keep insects.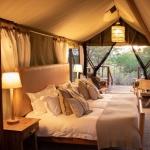 Kwafubesi Tented Safari Camp pampers guests in 5 well appointed luxury canvas tents where romantic oil lamps add to the 'Out of Africa' ambience. All tents are fully furnished with a private deck and en-suite bathrooms, however there is no electricity.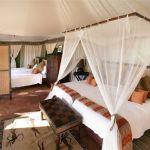 Safari Lodge
Guest Rating: 5.0 / 5.0 based on 2 ratings
Exclusivity is assured with only 8 luxury tents, all with private viewing decks, mosquito nets, fans and a luxurious en-suite bathroom with Victorian bath and outside shower.The 2 family tents offer space, luxury and comfort for parents and children and the generous en-suite bathroom also has Victorian bath and open inside shower.
Loading...