Phinda Game Reserve
Big 5 Game Viewing and 5* Luxury Lodges
Described as 'Seven Worlds of Wonder', the &Beyond run Phinda Private Game Reserve in KwaZulu-Natal has an abundance of riches to surpass every dream of an African safari.
One of the finest game-viewing experiences, Phinda features not only the Big 5, but a plethora of other animals and birds within its 23,000 hectares, which encompasses 7 distinct habitats - dry sand forest, savanna, woodland and wetland systems, beautiful river courses, mountain ranges, marshes and pans.
Explore the pristine sanctuary of Phinda with a fascinating game drive, offered twice daily and accompanied by an experienced ranger and tracker team, eager to expand your knowledge of the wilderness and share in your wildlife encounter experiences. Explore on foot and get even closer to Phinda's incredible diversity with an interpretive bush walk experience, or glide along the Mzinene River and experience the wild along tranquil, cool waters as you take in the vast wilderness around you.
Enjoy scuba diving adventures, a luxury walking safari, a black rhino tracking experience, horse riding trails in the bush, specialist birding or even take part in a leopard research specialist safari at an additional cost.
Phinda is home to 6 equally unique lodges that have been designed to complement the different habitats perfectly. Forest Lodge enjoys the dappled shade deep in the heart of a rare, dry sand forest, while Mountain Lodge boasts remarkable views out over the Reserve. Vlei Lodge, on the edge of the forest, overlooks the vast wetland, and Rock Lodge sits suspended over a deep valley below.

Phinda is also home to 2 sole-use safari villas, Zuka Lodge and The Homestead. Luxurious and intimate, these villas are the perfect 'home away from home' for families or small groups of friends sharing a safari together.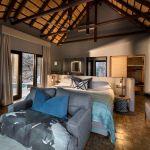 Safari Lodge
Guest Rating: 5.0
25 split-level suites, each with their own private plunge pool, crest the mountain, with raptor's-eye views of the Reserve.Observe the serenity of the South African wilderness from your private deck, surrounded by the indigenous trees and shrubbery of the pristine Zululand bushveld.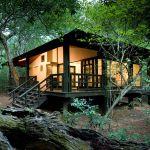 Safari Lodge
Guest Rating: 5.0
Wake up to the sight of graceful nyala and duiker browsing in the foliage of the sand forest right outside the glass walls of your private suite. Each suite is decorated in a stone and sand palate, which is accented with Zulu orange.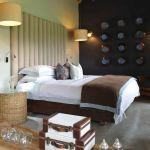 The lodge's 4 intimate cottages are set 15 metres (50 feet) apart, featuring verandas overlooking a busy waterhole where a diversity of wildlife is regularly seen. Sitting areas feature built-in sofas which double as beds for parents travelling with children 5 years and younger.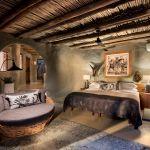 The intimate Rock Lodge offers 6 contoured stone suites.Each suite has a spacious bedroom with bath, shower, twin hand basins and separate toilet.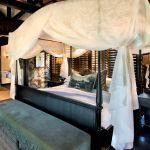 Fringing Phinda's unique vlei (wetland) system at the edges of the Sand Forest is Vlei Lodge - a study in intimacy and integration with the environment. 6 elegant and exclusive stilted glass and thatch suites overlook the vlei, where you are likely to see herds of grazing antelope and zebra.