Call our friendly experts:
0-800-981-420
AmaKhosi Lodge
Fully inclusive lodges
The 5* AmaKhosi Lodge is situated in the Amazulu Private Game Reserve - 12,000 hectares of savanna, mountains and wetlands, which makes it the ideal home for the Big 5 (lion, leopard, buffalo, rhino and elephant), as well as giraffe, warthog, hyena, hippopotamus and crocodile. For birdwatchers, there are no less than 400 species.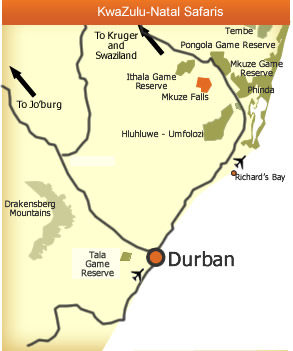 AmaKhosi, translated from Zulu means 'The Place of the Kings' and offers attentive service and luxury accommodation.
The lodge offers a fully inclusive safari package, including brunch, high tea and dinner, all drinks, and early morning and late afternoon guided walks and game drives with qualified game rangers.
You can read more about what you can expect from a safari lodge here.
If you would like us to include a safari in this lodge as part of your trip to South Africa, please click here.
Alternatively if you are only looking to book just a safari you can either book your stay at AmaKhosi directly through this site below, or ask us to recommend a lodge based on your budget.
Properties 1 to 1 of 1

The magnificent regal River Suites offer superb views of the flowing Mkuze River. Each suite boasts a separate air-conditioned bedroom and lounge with fully stocked mini bar and tea/coffee making facilities.