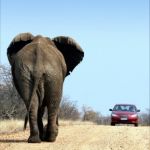 There is an excellent infrastructure of roads, some of which are tarred, others gravel. Good, clear signposts and maps help to make the driving experience easy and enjoyable.
The speed limit is 50 km/h (30 mph) on the tarred roads, and 40 km/h (25 mph) on the gravel roads - and there are speed traps in operation! Drivers MUST remain on the roads at all times, and are NOT allowed to drive off-road or get out of their vehicles, except at designated viewing points.
There are also several excellent picnic sites, all with toilet and cafeteria facilities, where you can also sit outside at tables and enjoy the sun for a while.
As a general guide, don't expect to travel more than 25 km in an hour, which allows you to stop and enjoy the wildlife on the way. Always make sure you have plenty of water and refreshments in the car with you.
It is an offence to drive in the Park at night, and the gates of all the camps close when it gets dark. It is important that you therefore ensure that you arrive at your destination before the gates shut, as arriving late can result in a heavy fine being imposed.