Family Safaris in The Greater Kruger Park
Safari lodges in the Greater Kruger Park that welcome children under 12
The Greater Kruger area is South Africa's leading safari destination, and for those parents who are happy to visit an area where it is necessary to take anti-malaria precautions, these lodges all offer an excellent safari experience.
The lodges all offer a fully inclusive African safari including accommodation, all meals, 2 safari activities or guided game drives per day in 4x4 vehicles, and an optional guided bush walk each day.
If you would like us to include a safari in one of these outstanding lodges as part of your trip to South Africa, please click here.
Alternatively if you are only looking to book just a safari you can either browse our selection of famiiy safari lodges in the Greater Kruger Park below and book directly through this site, or ask us to recommend a lodge based on your budget.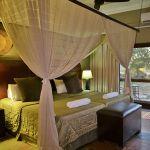 Safari Lodge
Guest Rating: 4.0 / 5.0 based on 1 ratings
There are 10 luxury rooms in total, 2 with double beds and 8 with twin beds. All rooms have en-suite bathrooms, and are equipped with a hair dryer, tea/coffee station, satellite TV and a mini bar fridge.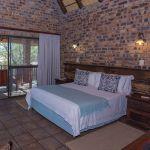 Safari Lodge
Guest Rating: 4.5 / 5.0 based on 22 ratings
Each chalet is tastefully decorated and furnished with the emphasis on outstanding comfort. Central facilities include a large viewing deck and splash pool with a 180 degree view of the river shaded by an old leadwood tree.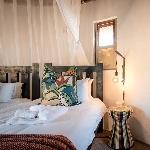 Africa on Foot Camp has 5 chalets (2 of which are family units), ensuring an intimate and personal safari experience. To truly immerse yourself in the rustic bush experience, all chalets are equipped with lanterns while plug points in the main area can be used to charge your camera batteries.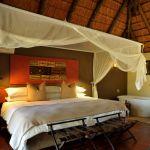 Bongani's rooms are ideal for families, groups or individual travellers and are set atop the Malelane Lebombo Mountains with private decks featuring magnificent wraparound views. All chalets and suites, each with 2 en-suite bathrooms and a private deck, are a subtle blend of timber and thatch, spaciously spread out across an impressive mountain ridge, within easy walking distance from the guest areas perched above.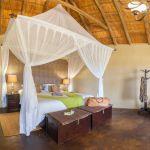 Safari Lodge
Guest Rating: 4.6 / 5.0 based on 8 ratings
The lodge sleeps a maximum of 14 guests in 7 chalets/rooms. The chalets have a small verandah with a sitting area, offering views over the African bush.
Loading...

.