Kwandwe Game Reserve, Eastern Cape
Big 5 Game Viewing and Luxury Accommodation
Kwandwe Private Game Reserve lies in the heart of South Africa's malaria-free Eastern Cape near Grahamstown. 22,000 hectares of farmland in the Great Fish River region have been restored and restocked with African wildlife.
Today, thousands of animals including lion, black and white rhino, buffalo, leopard and elephant roam this diverse and fascinating reserve. Kwandwe also offers some of the most magnificent cheetah sightings in Africa.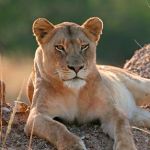 Kwandwe, meaning 'Place of the Blue Crane' in Xhosa, is also home to a population of these rare, highly endangered birds (the blue crane is South Africa's national bird).
Experienced rangers and Xhosa trackers lead guests on interpretive, twice-daily game-drives in open 4x4 safari vehicles. Morning game drives depart before breakfast, as dawn is breaking over the reserve. Afternoon drives depart late afternoon, and include a sundowner stop in a scenic location. Guests return to the lodge with the aid of a spot-light to search out elusive nocturnal creatures such as porcupine, aardvark or even aardwolf.
Inbetween game drives, guided leisurely bush walks in Kwandwe's pristine wilderness can also be arranged, bringing you face-to-face with wild Africa at its best.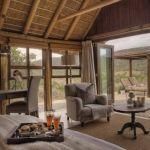 There are 4 lodges on the Kwandwe Reserve, and each cater for the luxury traveller who wants to get away. Ecca Lodge is relaxed, modern and trendy, and Great Fish River is set along the lush green banks of the river after which it is named. Melton Manor is a contemporary frontier farmhouse with a modern touch, and the Uplands Homestead is available for the sole use of families and parties of up to 6.
Children are welcome at all lodges, but they must be over 12 years old to stay at Great Fish River.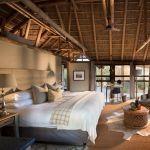 Set along the steep banks of the Great Fish River, this extraordinary safari lodge affords spectacular views of the wild yet gentle African landscape.The 9 air-conditioned and elegant thatched stone and glass suites feature floor-to-ceiling doors which fold back to reveal uninterrupted wilderness vistas.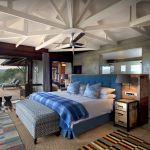 The lodge is airy, with barely a barrier between indoors and the African bushveld. The 6 suites each features private plunge pools, an en-suite bathroom with spacious, plate glass-enclosed shower, bath, and twin hand-basins, as well as a sitting area which can comfortably convert into accommodation for children 11 years and younger.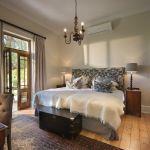 Antiques and memorabilia reminiscent of an 1820s Settler home elegantly blend with comfortable, modern finishes. Three air-conditioned, spacious bedrooms each have en-suite bathrooms and private terraces.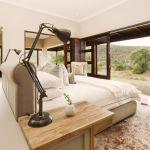 The 4 en-suite bedrooms feature innovative 'butler hatches' for discreet room service and the interactive kitchen will be a cosy place where guests can muck in with Melton Manor's expert chef.Inbetween drives, guests can enjoy relaxing around the large swimming pool and the central courtyard.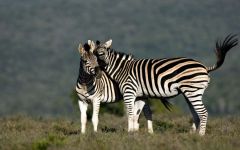 Special Offers
Selected Special offers for Kwandwe Game Reserve
Holiday Ideas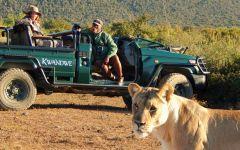 Kwandwe Game Reserve, Cape Town, The Garden Route, Hermanus and The Cape Winelands.
14 day itinerary.
Prices from GBP £ 3,238 US$ 4,987 ZAR 44,688 EUR 3,821 pp*
Guest Photos