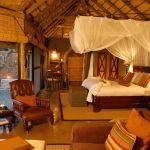 Private safari lodges come in a variety of shapes and sizes. Generally, they tend to be anything from 4 rooms up to about 20 rooms in total.
The main guest areas and your room/suite can be authentically African or contemporary in design. Most lodges have guest facilities such as a swimming pool, and some have spas and even a small gym.
If you fancy the idea of spending the night under canvas surrounded by the sounds of the African bush, then there are dozens of tented safari lodges and camps all across Southern and East Africa where it is possible to recapture the magic and romance of a bygone age of safari adventure.