Rorke's Drift Lodge
The Battlefields
Rorke's Drift Lodge, tucked up against the Sinqindi Mountain in KwaZulu-Natal, has before it a breathtaking expanse of Zululand. The lodge is a tastefully converted farm house that resides in an expansive 5 hectare garden with rolling lawns.
The area has seen some of the most significant moments in South Africa's history. The Battle of Rorke's Drift in 1879 was a part of the Anglo-Zulu war that saw the first defeat of the British Forces by an imposing Zulu Impi in the morning at Isandlwana and a complete turnaround in the evening of the same day at Rorke's Drift.
Visitors to Rorke's Drift Lodge are assured of an intimate experience laced with tons of personal interaction with the friendly and efficient staff.
The main guest areas include a cosy lounge complete with fireplace and DSTV (cable television), and a reception area with a small curio shop. A multi-level deck area is located in front of the lodge and guests can choose to simply lounge comfortably on one of the levels or to take a swim in the plunge pool while enjoying the spectacular view in the distance.
Cuisine with a South African flavour is a speciality, and evening meals are a set menu of 3 carefully selected courses. Delicious picnic lunches can also be arranged for guests wanting to go out for the entire day.
The main building also houses 2 of the rooms, Kune and Kutatu. These 2 rooms give guests instant access to all the lodge amenities while still having private entrances, affording guests the same privacy that the other rooms have.
Kubili and Kuhlanu, the other 2 rooms/suites are located away from the lodge in the gardens. These 2 rooms, although within 100m of the main lodge, are very private and ideal for thoses guests looking for that extra bit of seclusion.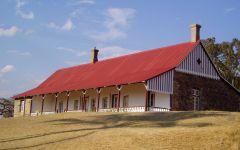 Location
Popular Alternatives
Guest Photos